Wildcard SSL
Secure unlimited subdomains on a single certificate.
What is a Wildcard SSL Certificate?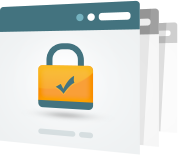 Wildcard SSL allows you to secure an unlimited number of subdomains on a single certificate. It's a great solution for anyone who hosts or manages multiple sites or pages that exist on the same domain. The one-time cost of the certificate covers you for additional subdomains you may add in the future.
Unlike a standard SSL Certificate that is issued to a single Fully Qualified Domain Name only, e.g. www.yourdomain.com, which means it can only be used to secure the exact domain to which it has been issued, a Wildcard SSL Certificate is issued to *.yourdomain.com, where the asterisk represents all possible subdomains.
Wildcard SSL is an option available for DV and OV SSL Certificates.
Kích hoạt trong vài phút
Cách nhanh nhất và hợp lý nhất để kích hoạt SSL cho trang web của bạn, việc phát hành nhanh chóng và hoàn toàn tự động.
Thể hiện con dấu trang web tin cậy
Chứng chỉ SSL của chúng tôi đi kèm với một con dấu tin cậy đã được chứng minh để tăng sự tin cậy của khách truy cập và tỷ lệ chuyển đổi khách hàng.
Tăng thứ hạng Google của bạn
Google sử dụng SSL / HTTPS làm yếu tố xác định thứ hạng uy tín site của bạn với công cụ tìm kiếm của họ. Thêm SSL ngay hôm nay để giúp tăng thứ hạng Google của bạn!
Điểm nổi bật
Giao dịch trực tuyến an toàn
99.9% tương thích với các trình duyệt web
Ngôi Sao Số chỉ cung cấp chứng chỉ SSL từ các thương hiệu đáng tin cậy nhất trong bảo mật trực tuyến.